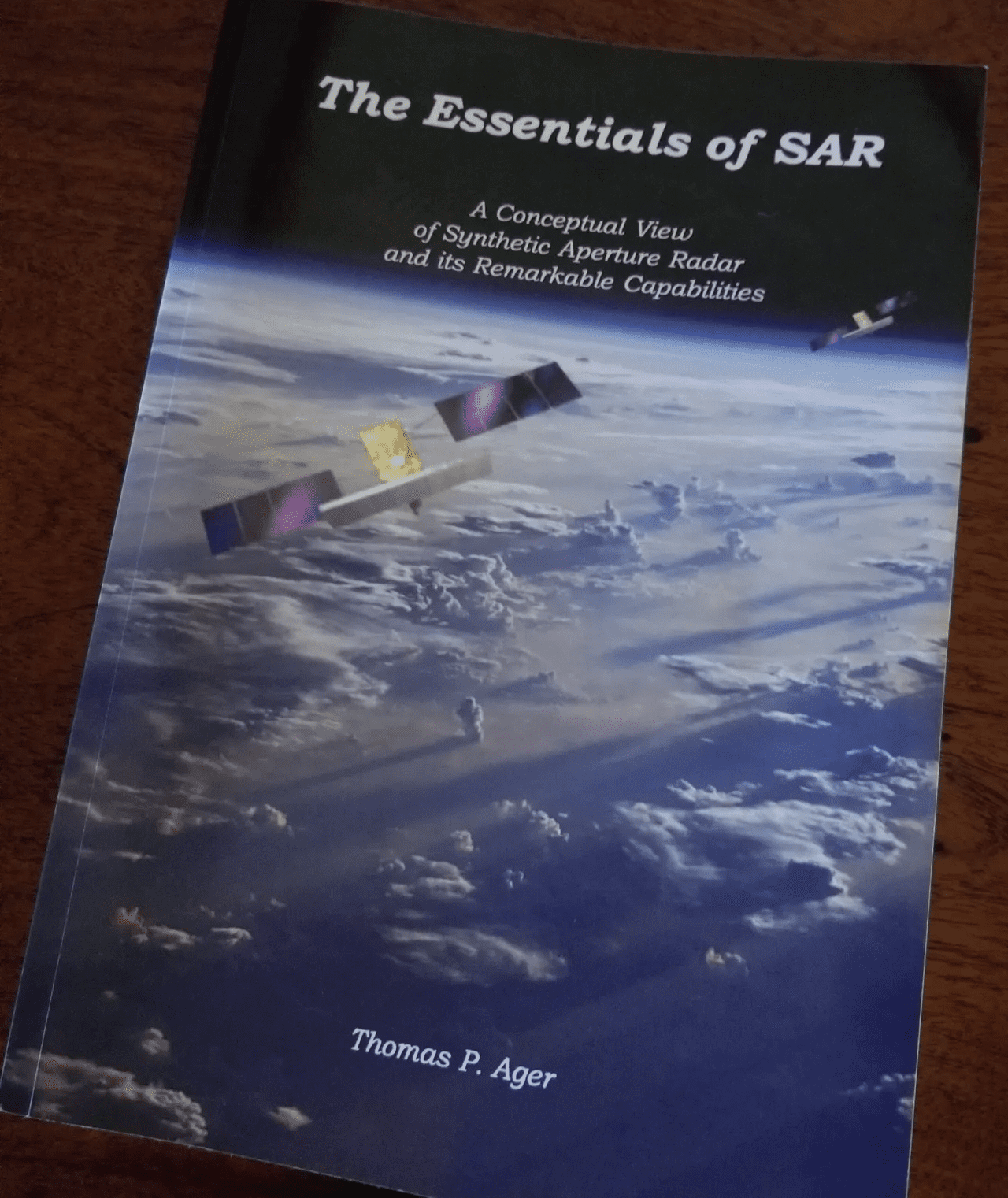 Synthetic Aperture Radar (SAR). I saw the LinkedIn traffic that announced Tom Ager's book, The Essentials of SAR, was published and available. I immediately ordered two copies for Prime Solutions Group, Inc. One for myself and the other for distribution among our SAR engineers. Having known and worked with Tom over the past 20 years, I was anxious to read his account of the essential knowledge for SAR. As expected, the book did not disappoint.
The Essentials of SAR is cleverly laid out to move the reader through "Apertures" that build on the value of SAR imaging. The unique presentation is a testament to Tom's ability to explain and teach the phenomena of SAR at all levels from Senior Executive Service Government personnel to members of software development teams. As he promises in the Foreword, he "replaces the confusion and intimidation of SAR with clarity and comfort". The chapters draw the reader in at just the right level and build on concepts normally attributed to advanced degree holders. Analogies, tangible comparisons and conversational explanations are presented as only someone with years of experience learning, developing, managing and communicating this wonderful technology could accomplish. Tom has done that beautifully with The Essentials of SAR. By the way, he has also added in music, humanities, sociology, history, and psychology along with personal stories to support key concepts. I never though Eric Clapton's song Layla as part of an explanation for a Chirp wave, but Tom has, and now I do.
The book's pragmatic approach ties essential SAR concepts together with respect for the theory and math. With this foundation he connects airborne and space sensors through their Radio Frequency (RF) interface to their ultimate objective of remote sensing. This holistic approach is accompanied by discussions of physics-based limits and how they are accommodated. Tom has the expertise and confidence to ask "why?" For example, he de-mystifies complex numbers and the baggage we have carried with I and Q, real and imaginary, and phase and amplitude. Finally, he leaves us with what is essential to understanding SAR.
In the Final Aperture, Tom lays our an exciting vision for Imaging the Future. This is the culmination of a lifetime worth of work which has been dominated by a genuine desire to make SAR everything it can be to military, commercial and the human condition. He motivates us to take SAR to the next level and lays out reasonable paths to get there with actions that can be accomplished today. SAR is hard even for engineers who have spent careers in the technology, but as a true visionary leader, he explains to us how the Future is Available Now.
Whether you are a student, SAR user, SAR systems engineer, SAR processing software developer, or just interested, get this book. As someone who has been directly involved with SAR for an entire career, I learned from it. I can't imagine SAR practitioners at any level who wouldn't take something from this work. Thank You Tom for your service, leadership and willingness to take difficult concepts and make them understandable by all. Radar Love.
Joe Marvin, Prime Solutions Group, Incorporated